Introduction
It was a year ago that we decided we need a modern Internet-enabled CCTV security system. We didn't know much about home security at that point and could have simply bought an Easy-DIY type pre-packaged camera and NVR kit.
But we decided to do it our way – the Full-DIY way, learning by doing, using excellent IP cameras like the Hikvision DS-2CD2542FWD-IWA. Today, we have a DIY CCTV home security camera system that we chose and set up ourselves based on weeks of research. It is robust, flexible, and ultra-reliable yet very affordable.
Since we are often asked how we are able to view our home security cameras securely from anywhere in the world, we thought we would share our journey with you, our readers. We will list our security camera setup and how we are able to safely and securely connect to our home from just about anywhere. We will go into not just a list of the different devices that form the system but also how they all come together to help us achieve our specific security goals.
Our Home Security goals were:
Be able to monitor multiple cameras in our garden and backyard through a single screen that simultaneously shows multiple camera views. This could be from a tablet while indoors and from our mobile phones and laptops remotely.
Be able to record at least 2 weeks worth of 24/7 video footage automatically
Get motion detection alerts by email within seconds of the intrusion.
High enough resolution to get a clear picture at day or night.
The system should be flexible enough to grow and change according to our evolving needs.
Online security is paramount – we do not want to port forward the cameras and thus leave the entire network vulnerable to hackers.
Email alert notifications with snapshots – a must-have.
Push notifications – a nice to have.
All of this should not break the bank!
The End Result
Here is a screenshot of how we monitor our IP cameras from our laptops:
We can also access the cameras from our smartphones.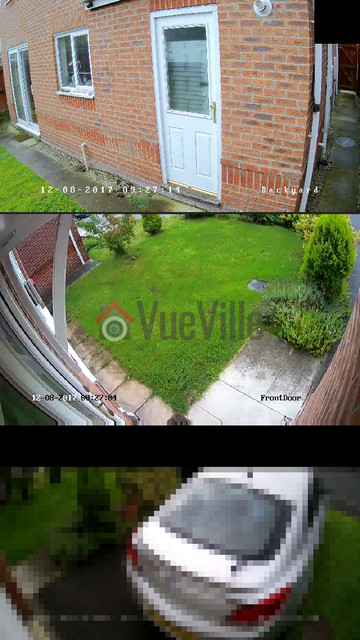 Now let's see what our home network looks like.
Our DIY Home Security System Network Setup
A topology is a representation of how a system is connected together. Network topologies may be either physical or logical. A physical network topology shows the actual physical layout and the connections between different elements. A logical network topology shows how they are functionally linked to each other. The topology above is a logical representation of our home surveillance network.
We have three Hikvision IP cameras, and a Reolink C1 Pro recording 24/7 to a Network Attached Storage (NAS) system from QNAP. NAS devices today are much more than just network storage, they are more like mini-servers. Generally they run their own Linux-based operating system that is accessed through a web browser. Common uses for a NAS are centralised network storage, as a backup target, as a VPN client/server, and as a DLNA server for streaming your media across the house to multiple devices.
The TS-231+ we use has multiple roles as well (EDIT: I have now upgraded to an Intel-based QNAP TS-253A NAS, the main role being a Network Video Recorder (NVR). This is possible using the NAS' built-in Surveillance Station software. So the QNAP records full resolution video streams from my 3 Hikvision cameras and a Reolink C1 Pro to its internal hard drives. You could get a dedicated NVR but as I said, we had other uses for the NAS.
As mentioned in our goals above, we didn't want to forward ports from the cameras. The alternative to forwarding ports from the camera to the router and exposing them to the Internet, is to create a VPN connection to your home network. For this you need an Internet-facing device in your home network that can act as a VPN server.
Most modern routers can do this, but since we use an ISP provided DSL modem-router this is not an option. So the second role for our QNAP NAS is as the VPN server for the entire home network.
The QNAP software has a built-in VPN server that supports all the major VPN protocols. I chose the OpenVPN protocol as it is widely accepted as the most secure protocol at the moment. All others have been compromised either by the government or by hackers. Our ISP's DSL modem-router is physically the center point of the network as all the devices are connected to it either directly or through switches.
The QNAP's OpenVPN port is forwarded to this modem-router. No other port forwarding is present. The modem-router is configured with Dynamic DNS (DDNS) and so is always accessible from the internet using a friendly name, instead of the public IP address which ISPs change every so often.
We use a VPN client on our Android phones or laptops to connect to our home network via OpenVPN, the QNAP NAS acting as the OpenVPN server for the entire home network. This lets us access all our network resources as if we never left home, live-viewing and reviewing recorded footage is so easy.
Accessing the security camera system while at home
The QNAP NAS' Surveillance Station can be accessed either via the web interface or the Windows QNAP QVR client software that you saw above in the screenshot. The tinyCAM Monitor Pro app on our smartphones are all configured using the local IP address of the QNAP NAS and Hikvision cameras. At home, we just open the app and it simply works. No fuss. No hassles.
Accessing the security camera system from outside the home
Outside our home network, I simply need to connect to the VPN server (the QNAP NAS), and all the apps and the QVR client on the laptop simply continue to work. This is the detailed process: So I use the OpenVPN client on my laptop or phone to connect to the NAS. Once connected, my PC is virtually part of our home network.
So our Hikvision cameras are not directly exposed to the Internet. Our QNAP NAS is, but this is a far better option because the QNAP is built for this purpose and has attack defeat measures such as IP exclusion, automatic IP bans based on rules etc. which the cameras simply don't have.
Also the VPN server allows me to access the date on the NAS without hassle – my laptop or smartphone will think that they are in the local network. So all network drives automatically re-connect and the experience is seamless in terms of recently used files etc.
back to menu ↑
back to menu ↑
Full Equipment list
We set ourselves a challenge of putting together a modern Internet-enabled CCTV security system at a reasonable cost:
IP Cameras
Hikvision 2032-I (Backyard camera at 2MP resolution, 6Mbps bitrate and 10fps):
Hikvision 2132F-IS (Dome for front yard at 3MP resolution, 6Mbps bitrate and 10fps):
Hikvision 2542FWD-IWS (Mini-dome for front door at 4MP resolution, 6Mbps bitrate and 10fps):
Amcrest 1080p ProHD PT Indoor Camera used as a baby monitor
Here is a guide to Hikvision cameras and our IP camera recommendations for 2016. We also set up email motion detection alerts and push notifications to our smartphones. Please note that the cheaper QNAP NAS models come with only a license for 2 channels in the Surveillance Station app. So if you want to record more than 2 cameras, you will have to purchase additional licenses.
Network Attached Storage (NAS)
QNAP NAS TS-253A with a 3TB WD Red hard drive (WD30EFRX):
You could use a standard NVR or a NAS for recording video streams from your cameras. We were attracted to the NAS option because a NAS can do a lot more than just be a dumb external hard drive.
NAS offerings from the major vendors such as Synology and QNAP have extremely powerful software running on them that makes them more like computers. So we use the NAS as the NVR, a VPN server, backing up our laptops, phones, and as a DLNA server.
Intel Celeron N3150 Quad Core 1.6GHz (up to 2.08GHz), 4GB DDR3L RAM (max 8GB), SATA 6Gb/s
2xGbE, AES-NI hardware encryption, hardware transcoding up to 4K H.264, 4K HDMI with Kodi player, 2xHDMI, Virtualization Station, Surveillance Station, max 1 UX expansion unit, 2x 6.3mmMIC In, 1x Line out
2 used from $388.40

Free shipping
Last update was in: May 20, 2018 11:12 am
Capacity: 3 TB
Rotational Speed (RPM): IntelliPower
Microsoft operating systems prior to Vista, 32-bit operating systems, and Mac systems prior to OSX 10.4 may not support volumes greater than 2TB. To recognize the full capacity of this drive, you may need multiple partitions. Check with the manufacturer to verify your system's compatibility.
3 used from $89.99

Free shipping
Last update was in: May 20, 2018 11:12 am
The QNAP TS-253A we chose is an affordable yet powerful NAS that is the hub of our surveillance system. From my round-up of the best NAS NVR options, you can see the choice was between the TS-253A and the Synology 416play. We settled on the QNAP because it had slightly more powerful hardware, more features such as HDMI out ports, and 2 extra camera licenses over the Synology 416play. Both Synology and QNAP are great brands and both claim to be able to send push notifications to their respective mobile apps, but I haven't tested this on our QNAP yet. In any case, the Hikvisions themselves can send push notifications to the iVMS-4500 HD mobile app. We tested this and it works as advertised.
Network Switches
Power-over-Ethernet (PoE) Switch
8 10/100/1000Mbps RJ45 ports
With four PoE ports, transfers data and power on one single cable
Working with IEEE 802.3af compliant PDs, expands home and office network, Max Wattage w/ PoE with devices connected: 55w
Free shipping
Last update was in: May 20, 2018 11:12 am
Netgear 8-port Switch
You can never have enough Ethernet ports! The Netgear GS-308 8-port gigabit switch is an unmanaged switch. This means there are no settings to configure, it is truly plug and play. It has a sturdy metal chassis, auto-sensing 10/100/1000 Mbps port support and excellent real-world performance. It also has LED activity, link speed and status LEDs per port. I have been using it for over 6 months now and it has been super reliable. Highly recommended plug and play switch for setting up your home surveillance network!
8 auto-sensing 10/100/1000 Mbps Gigabit Ethernet ports
Small and silent desktop form factor
Plug-n-Play connectivity easily installs into any network
Energy efficient with up to 60% lower power consumption
13 used from $14.38

Free shipping
Last update was in: May 20, 2018 11:12 am
External IR Illuminators
Two cheap IR illuminators for the backyard and 12V power adaptors that have lasted nearly a year now and are still going strong. These are of the 60 degree coverage variety, and you can also get wide-angle illuminators.
850nm wave length, automatically working in low light situation, wide angle 60°, Plug&Play.
Great idea for use with CCTV cameras, IP cameras and other security and surveillance equipment.
Waterproof IP65 case for both indoor & outdoor use
Free shipping
Last update was in: May 20, 2018 11:12 am
AC Input: 100V to 240V, DC Output: 12 volt at 2 amp rating
Type: Regulated switching power supply with 2.1mm x 5.5mm plug, center positive
High quality commercial grade AC to DC power adapter for manufacturer of all type.
Free shipping
Last update was in: May 20, 2018 11:12 am
Ethernet Cables
For Ethernet cables that run outside the home, I recommend using cables that are designed specially for this purpose – outdoor heavy-duty burial-grade CAT-5e or CAT-6 Ethernet cables. This will ensure that you do not face issues with the cables such as breakage, little animals chewing the cables etc. Ensure that the cables are 100% pure copper and not the cheaper and inferior Copper Clad Aluminium(CCA) variety.
Color: Black
Shielded RJ45 Connectors
Length: 200FT
Can be buried underground
Waterproof (Outdoor Rated)
Free shipping
Last update was in: May 20, 2018 11:12 am
UPS
A CyberPower BRICs BR650ELCD (Line-interactive UPS – 390W/650 VA) to protect and power the entire system (13% load for all the above kit + a couple of other devices). I got a cheap yet reliable UPS which is officially compatible with the QNAP NAS. If the power fails or supply voltage is outside the tolerance, it informs the NAS which is programmed to shut down gracefully. I also have a schedule to turn it on automatically every morning, which ensures the NAS will turn itself on the next morning if the power fails and it shuts down. I think its paid for itself as I already had one occasion where the NAS informed me that it had shut down as instructed by the UPS.
600VA/340 Watts UPS system - Protects PCs, workstations, and home entertainment systems. Prevents data loss and protects electronic equipment from harmful power problems
GreenPower UPS, reduces energy consumption up to 75%.
1 used from $64.99

Free shipping
Last update was in: May 20, 2018 11:12 am
Miscellaneous
32GB SD card for the Hikvision 2132F-IS IP camera above. 64 GB SD cards should also work but some cameras are a bit picky about which 64GB cards they will accept. Make sure you use at least a Class 10 speed card so that you don't suffer from dropped frames in the recordings. I use the SD card to record motion detection alert clips. This is then yet another location where the clips are backed up.
Ideal for premium Android based smartphones and tablets
Up to 80 MB/s transfer speed
Class 10 for Full HD video recording and playback
Water proof, temperature proof, shock proof, X-ray proof and magnet proof
4 used from $17.99

Free shipping
Last update was in: May 20, 2018 11:12 am
Software
The QNAP NAS comes with a free standalone NVR application, the QVR client. It supports all the features a good NVR has and it works very well.
We use tinyCam Monitor PRO app on Samsung Galaxy E5, Samsung Galaxy A5, HTC One M7 and a Nexus 7 tablet. The tablet is our dedicated IP camera monitoring screen.
back to menu ↑
back to menu ↑
Storage capacity needed for QNAP Surveillance Station:
Recording our two cameras 24/7, 1 TB is good for 8 days. Note that alarm recording is switched off. You can activate alarm recording which will then place markers on the timeline so that you can jump to events. So we would need 2 TB for around 2 weeks worth of video. More if we want higher bitrate and frames per second.
We have settled at 6Mbps and 10fps as we couldn't see any improvement with a higher bitrate and 10fps seems fine. What we have done is set the Surveillance Station app on the QNAP to use only 1 TB (out of the 3TB available). So it automatically overwrites older recordings to maintain the 1TB quota. You can also specify number of days instead.
back to menu ↑
back to menu ↑
Conclusion
We hope this article gives you an insight into how you can set up your own DIY home security camera system. If you have any questions at all, please do not hesitate to get in touch through the comments field below.
---
A quick note: This article may contain affiliate links from Amazon and/or other platforms. I don't like ads and I'm sure you don't either. So this is how we pay the bills and ensure a distraction-free experience for you, my dear reader. If you click on one of these links and then purchase something, I will receive affiliate income for referring you. This goes towards the costs of hosting and running this website and does not cost you anything extra. Thanks for your understanding! Also note that Hikvision and Dahua do not consider certain platforms including Amazon as an authorised seller, but personally I don't mind the often lower costs.
Copyright protected by Digiprove