If you have a mish-mash of IP cameras from different brands in your DIY Home Security Camera System like me, an IP camera viewer app can be quite handy.
Of course, there are a few different ways to monitor all your cameras in a single place.
But a single app on your Android smartphone or tabloid is arguably the most convenient. The only requirement is that all your IP cameras should ideally support the ONVIF industry standard, or at least provide an RTSP/MJPEG stream. ONVIF allows you to mix and match cameras from different manufacturers.
The Best IP Camera Apps for Android
1. tinyCAM Monitor
Features
2-way audio on selected models
Motion detection (both in-app and on-camera), face detection
Video recording (local storage, time-lapse, FTP/FTPS, Amazon Drive, Dropbox, Google Drive, Microsoft OneDrive, ownCloud)
Background/DVR mode (background recording and motion detection)
Internal web server for remote recordings playback and live view
Android Wear app & Google Cast (Chromecast) support
TV support (Android TV, Amazon Fire TV)
Home screen and lock screen widgets
Floating windows
Tasker automation plugin support
This app really stands out for a variety of reasons. It has a beautiful interface that's been thoughtfully designed. But its not form over function. The plethora of features is simply mind-blowing. This app is simply one of the best I have used on Android.
It is also very responsive and has been super stable over the past 4 years that I have been using it on a wide range of Android devices.
Apart from supporting ONVIF, the camera can automatically detect and set up over 10,000 different camera models. FOr example, the automatic scan detected my Reolink C1 Pro IP camera which didn't happen with the other 2 apps I tested.
For matrix or multi-camera view, you can pick any of the 17 different layouts. Most of them also auto-rotate when you rotate your device to portrait (vertical) or landscape (horizontal) mode. This is how the portrait 3-camera view looks like on my Samsung Galaxy A5: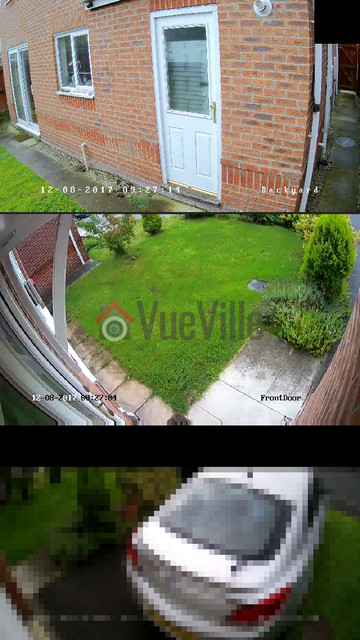 There is an ad-supported free version with limited features and a paid pro version. We recommend choosing the pro app because of all the additional features at a super low price of less than $5.
On my Galaxy A5, the app automatically picked the hardware acceleration option for my Reolink C1 Pro. It can comfortably do 10 fps for 4 cameras simultaneously on the sub-stream.
I use the app as my baby monitor app and the advanced audio features such as audio amplification are a great touch.
PROS:
Tons of features such as face detection
Presets for wide range of IP cameras
Great value
Supports in-camera motion detection also
Optional cloud platform
CONS:
Lacks advanced motion detection methods such as line crossing
Smart Home Checklist
Cloud reliant: No
Smart home compatibility: ONVIF, RTSP, Tasker and Web server built-in
Subscription fees: None, one-time purchase
2. IP Cam Viewer Pro
Features
1600+ devices supported including NVRs and DVRs
RTSP, ONVIF, MMSH supported
MPEG4/H265/H264/MJPEG codec support
Controls PTZ (Pan/Tilt/Zoom) cameras
Camera grouping, auto sequence
Automatic camera detection
Home screen and lock screen widgets
2-way audio and background audio support for many devices
In-app motion detection
Record mode for 24/7 recording of all cameras
Embedded web server for remote control of app, Tasker integration, or use as a transcoder/proxy
Chromecast and Android Wear support
While this app is certainly functional, the interface is a letdown compared to our app of choice, tinyCAM. The feeling I got was of using an app from the early years of Android. There's no material design here. Large blocky buttons and huge fonts dominate. The designer seems to have taken a very workmanlike approach to designing the UI. But the app undeniably does do what it claims to do.
Apart from supporting ONVIF, the camera can automatically detect and set up over 1726 different cameras. The automatic scan however could not detect my Reolink C1 Pro IP camera.
There is an ad-supported free version with limited features and a paid pro version.
PROS:
Tons of features
Presets for wide range of IP cameras
Great value
Supports in-camera motion detection also
CONS:
Poor UI
Cannot detect in-camera motion detection
Lacks advanced motion detection methods
Smart Home Checklist
Cloud reliant: No
Smart home compatibility: ONVIF, RTSP, Tasker and Web server built-in
Subscription fees: None, one-time purchase
3. ONVIF IP Camera Monitor (Onvifer)
Features
Supports ONVIF, RTSP/MJPEG/H.264
Records MP4 clips
Can auto-discover all ONVIF devices instantly
Supports PTZ cameras
Has snapshot preview widgets on Android home screen
Supports viewing multiple cameras simultaneously
While this app is nowhere as popular as tinyCAM, its a decent effort. The user interface is not as polished as tinyCAM but still quite good. Its not as rich in feature either, but it does all the basics well.
There is an ad-supported free version with limited features and a paid pro version.
PROS:
Simple and easy-to-use
Presets for wide range of IP cameras
Great value
CONS:
Basic UI
No motion detection support at all
Lacks advanced features such as 2-way audio, video widgets, web server, API, Android Wear, Chromecast support
Smart Home Checklist
Cloud reliant: No
Smart home compatibility: ONVIF, RTSP
Subscription fees: None, one-time purchase
back to menu ↑
Comparison Table
App/Feature
tinyCam Monitor Pro
IP Cam Viewer Pro
Onvifer Pro
Protocols
ONVIF/RTSP/MJPEG
Auto scan camera
Yes
PTZ support
Yes
Camera sub stream
Yes, auto-switch on mobile networks
Yes
Motion detection
In-Camera and In-app, Face detection, Email notification
In-Camera and In-app, Email notification
No
24/7 recording
SD, FTP, Cloud services and NAS
SD, FTP, Cloud services
No
Audio
2-way, background audio, baby monitor features
2-way, background audio
Listen to camera audio only
Home Automation
Web server, Tasker
No
Cloud reliance
No, cloud viewing optionally available
No
No
Wearable support
Android Wear
TV support
Chromecast
Widgets
Home screen live video widget
Home screen snapshot widget
Buy now
back to menu ↑
What are the pros and cons of using an IP camera viewer app?
While there are quite a few ways to view all your cameras in one place, the smartphone camera viewer app is a popular option.
Here are the pros and cons of using a security camera viewer app:

PROS:
Easy to set up
ONVIF, RTSP camera support
Great for home automation
Very cost-effective
CONS:
Limited number of IP camera channels vs. NVR
24/7 recording challenging on mobile devices
Non-ONVIF camera support may be limited
Requires a dedicated mobile device or computer
CCTV over Wi-Fi is not 100% reliable
back to menu ↑
What to look for in an IP Camera app
Automatically detect ONVIF compliant cameras
Some apps can automatically scan your network and detect supported IP cameras. You just need to type in the username and password. This feature can save you a lot of time and the hassle of typing in IP addresses and port numbers. This will work only for ONVIF compliant cameras by the way.
RTSP and P2P camera support
The industry standard for streaming CCTV video is the Real Time Streaming Protocol (RTSP) protocol. The beauty of RTSP is that as  long as an IP camera can provide an RTSP stream and your viewing software supports RTSP, all you need is the RTSP stream URL and login details. The viewing software doesn't have to support the camera itself, making it possible for you to use a wide variety of IP cameras with a single viewer software or app. Exactly what we want!
These days, some IP camera manufacturers enable P2P support in their cameras. This means each camera has a Unique Identifier (UID) code. You need only this single code to add the camera to your camera viewing app. What's more, it will work outside your home network without any additional configuration. No IP address, port forwarding etc. to bother with. But P2P uses a third-party service, so your security and privacy is lower than when using your own secure VPN tunnel.
Preset settings for popular IP cameras
While ONVIF support is sufficient to view your camera in your camera viewer app, you may want to take advantage of some additional features of your camera that doesn't work over ONVIF. A good example is the PTZ controls of your ONVIF-compatible PTZ camera such as the Reolink RLC-423. Another example is detecting alerts sent by PIR sensors on your indoor IP camera.
So what's the solution? Some IP camera apps come with additional presets for the most popular IP cameras. That means you can use most of the features your camera's native app has. Win-win!
Motion detection and 24/7 recording
If some of your IP cameras do not have motion detection or are not great at it, you can have the viewer app perform it instead. Some apps can both perform their own motion detection or use the motion detection triggers from the camera itself.
Some apps can also do 24/7 recording to an SD card or to a network device like a NAS. Recording to a separate network device is recommended because SD card will wear out rapidly under continuous recording conditions.
Switch camera stream
For most smartphones and tablets, decoding multiple 1080p or higher streams is too resource intensive. What usually happens is dropped frames, or blank screens.
Thankfully, any good IP camera will have both a high quality stream and a lower quality mobile-optimized stream. a good viewer app will let you switch between the high quality and low quality streams.
What's more the best apps will automatically choose the mobile-optimized stream if you are on a 3G/4G mobile network. This will also keep your data usage low.
2-way audio
If your IP camera supports 2-way audio and has both a speaker and a microphone, you can use the viewer app to chat with someone at the other end. Of course your camera needs to support full-duplex audio to have a natural 2-way conversation. On the other hand, if your camera is most cameras and has only half-duplex audio, your conversations are going to be of the walkie-talkie variety sadly.
Background audio and recording support
If you are using your IP cameras as baby monitor or DVR/NVR, the last thing you want is to keep you mobile phone screen on or even worse, the viewer app active on screen at all times. So the answer is background audio support – which keeps the app recording and sound from your cameras playing, even if you are looking at other apps or even lock/switch off the phone screen.
Chromecast and Android Wear support
Got a wearable device? Then Android Wear support is super cool. Chromecast support lets you turn your TV into a giant CCTV monitor! Such fun!
API and/or Web server for remote control
Integrating home security camera systems with home automation is the holy grail for DIY enthusiasts like me. What really helps is getting the viewer app to do certain actions when triggered by the home automation system or vice versa.
An API or HTTP web server running on the Android device enables such functionality.
Read more: How I linked my Hikvision security cameras to my HomeSeer home automation system
Reliability
It goes without saying, you want a stable reliable app that will keep going day in and day out. This is especially important if you will rely on it for baby monitoring, 24/7 recording etc.
Cost
While there are dozens of free IP camera viewer apps, most of them are riddled with ads and other nasties you don't want on your computer. So this is one area where you definitely get what you pay for.
back to menu ↑
Conclusion
With most free IP camera apps being low quality, and the super affordable prices of paid apps, it is a no-brainer to choose a paid IP camera app. Our choice is the excellent tinyCam Monitor Pro app and we trust you will be happy with it too.
A quick note: This article may contain affiliate links. If you click on one of these links and then purchase something, we may receive a fee. This does not cost you anything extra.