Imagine having to open different apps to live-view your many different cameras from different brands. What a pain, right? Thankfully there is a better way!
We started our home security journey with a single outdoor security camera. Soon, we were hooked and started buying more IP cameras to cover all 4 sides of our home.
Before long, we had 4 IP cameras from Hikvision, Reolink and Amcrest. Opening and logging into each camera's app to live-view each camera got old, fast.
Want to watch 2 cameras on one screen? Or more? Thankfully, it's not difficult to view all your security cameras in one screen. And there are several ways of doing it, so let's dig in!
A quick note: As an Amazon Associate I earn from qualifying purchases. This post contains affiliate link(s). An affiliate link means I may earn advertising or referral fees if you make a purchase through my link, at no extra cost to you.
Important Prerequisite – Remote access
Please note that you will need remote access to your home network – I recommend setting up your own secure VPN tunnel using WireGuard. There are issues with the other 2 options: the port forwarding method is dangerous and there are privacy concerns with using a 3rd party P2P feature that comes built-in with most cameras and NVRs. I have written a blog article that can help you understand the various options you have to set up remote access. The rest of this article assumes you have set up remote access using one of these remote access methods.
How to view all your security cameras in one place
There are several different ways of accomplishing this:
Use a 3rd party mobile app or desktop app
EasyDIY – Get a Network Video Recorder (NVR)
ProDIY – Get a NAS to use as an NVR
Which of the 3 methods you should choose depends on your needs, your budget and how involved you want to get with your home security camera hobby.
Use a 3rd party mobile app or desktop app
This is the easiest method and something you can even do for free. There are 3rd party apps such as tinyCAM Monitor (Free & paid versions) for smartphones and Milestone XProtect Essential (Free version) that will let you add all your IP cameras and view them in one single screen.
PROS
Easy to set up
Very cost-effective
ONVIF camera support
CONS
Limited number of IP camera channels
24/7 recording not feasible on mobile devices
Non-ONVIF camera support may be limited
Requires a dedicated mobile, tablet or computer
Running a computer 24/7 can be expensive
Advanced features may cost extra
On smartphones and tablets
For Android, we recommend the excellent tinyCAM Monitor app. This app has a wealth of features, including motion detection recording, thus turning your mobile device into a full-blown DVR.
Here are the main features of the tinyCAM Monitor Pro version:
2-way audio (selective models)
Motion detection (both in-app and on-camera), face detection
Video recording (local storage, time-lapse, FTP/FTPS, Amazon Drive, Dropbox, Google Drive, Microsoft OneDrive, ownCloud)
Background/DVR mode (background recording and background motion detection)
Internal web server for remote recordings playback and live view
Android Wear app
Google Cast (Chromecast)
TV support (Android TV, Amazon Fire TV)
Widgets
Floating windows
Tasker automation plugin
Here's what tinyCAM Monitor Pro looks like on my Samsung Galaxy A5: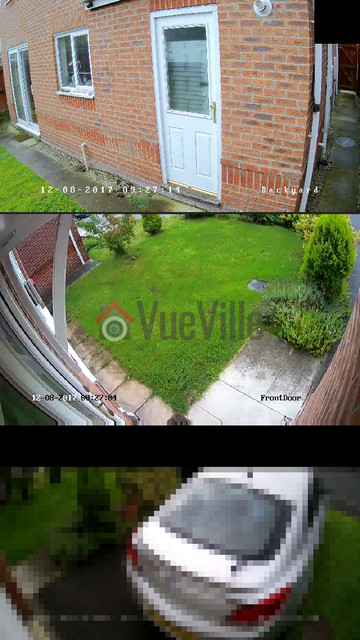 If you have Apple mobile devices, you could try the well-reviewed IP Cam Viewer Pro app.
On desktop
There is a good choice of free IP camera management and DVR software that will let you live-view a limited number of IP cameras, do basic motion detection, and recording. The most popular free versions are:
If you are willing to pay for premium features such as a higher number of IP camera channels or advanced motion detection to reduce false alerts, these are the best options:
EasyDIY – Get a Network Video Recorder (NVR)
If you haven't bought a single IP camera yet or need additional IP cameras, then the EasyDIY approach is to get a complete security camera system that comes with everything you need in one package (see our picks).
But if you have more than 1 IP camera, i.e. you are already heavily invested and do not want to buy a whole kit, just buy an NVR.
PROS
24/7 recording of all IP cameras possible
Simultaneous live-view of cameras on a TV possible
Advanced motion detection of cameras supported
Can be hooked up to home automation system
CONS
Not free
All cameras should be from the same brand for advanced motion detection
Some brands only work with their own brand cameras
NVRs that work with any ONVIF-compliant camera:
Hikvision: These guys are the OGs of NVRs and are a solid choice if you have mostly Hikvision cameras and want to take advantage of the advanced motion detection methods such as line crossing, intrusion detection etc. These also support 3rd party ONVIF-compliant cameras, but then some features such as PTZ control and advanced motion detection methods.
Dahua: Like Hikvision above, Dahua are also feature-rich, reliable and affordable. They do steal the march on Hikvision with person detection (face detection) on the mid-range and high-end models. For those of us who want person detection but do not want a cloud reliant system (like the Nest, Ring or Arlo), Dahua is the only real option. So we really think Dahua is an under-rated DIY security camera brand.
NVRs that work with most ONVIF-compliant cameras:
Amcrest: If you want to keep costs down and don't need advanced motion detection methods, Amcrest may be an option. However do not underestimate the effectiveness of advanced motion detection methods in drastically reducing false motion detection alerts.
ProDIY – Get a NAS to use as an NVR
If you want to interface your home security camera system with your home automation system like we have, increase data reliability by using disk mirroring, go for the DIY NAS NVR option. And oh you can do a ton of other things too in the background such as running a DLNA server, media server duties, mail server, FTP servers, even home automation software!
NAS servers also have Surveillance Station mobile apps so that you can view the same simultaneous live-view and recordings on your mobile device.
Here's a screenshot from my QNAP TS-253A running Surveillance Station: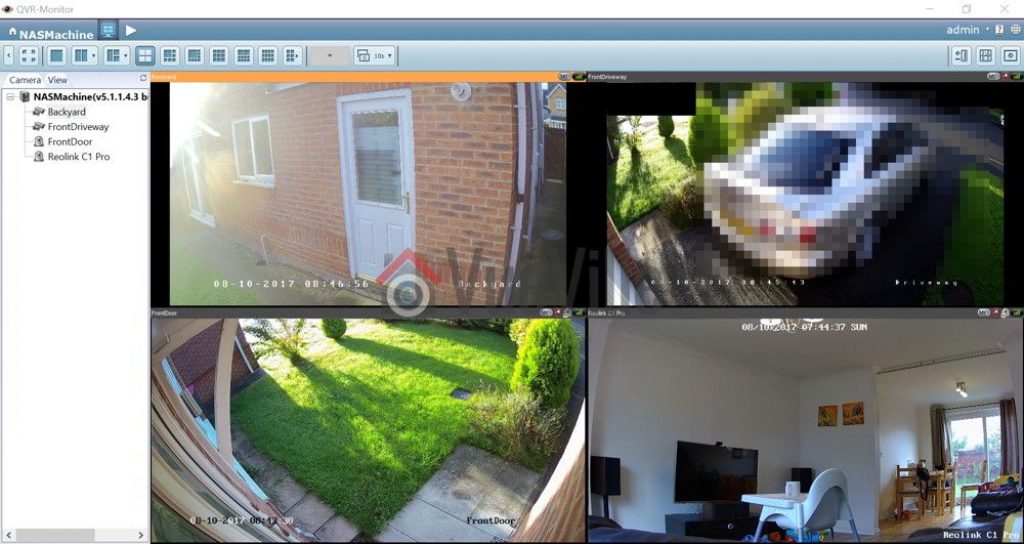 So what are the pros and cons of this method?
PROS
Very cost-effective solution for data mirroring (RAID 1)
24/7 recording of all IP cameras possible
Simultaneous live-view of cameras on a TV or monitor possible
Can be connected easily to your home automation system
We have written an extensive review of the best DIY NAS NVRs – this is a great place to start your research.
Conclusion
As you can see, there are quite a few ways to get all your security cameras together in one place – each has its pros and cons but what's life without some variety? Let us know which method you have chosen and why in the comments below!