Many a DIY enthusiast has discovered the joy of rack mount servers. Rack mount NVRs are great for all the same reasons: rack mounting your NVR saves ...
Does the thought of laying hundreds of feet of Ethernet cable up and down your attic, around the house and under the eaves fill you with dread? Outdoor ...
I have always been an avid reader. From Noddy & Big Ears, to the Famous Five, the Secret Seven & the Hardy Boys and then on to Poirot and Sherlock Holmes in my ...
Looking for the best 20 Megapixel CCTV cameras on the market? We have rounded up the best IP cameras on the market that offer both incredible daytime detail ...
Looking for an affordable budget IP camera that won't fall apart after a few months, doesn't spy on your family and doesn't cost a bomb in 'subscription' ...
Z-Wave motion sensors are not exactly cheap, are they? While the sensors from Fibaro and Aeotec are great products which are very reliable, the costs do add up ...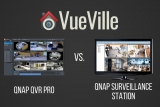 QNAP recently released QVR Pro, a new surveillance app for their beefier NAS models. So if your NAS makes the cut, you now have a choice between the default ...
Are you looking for the best bang for the buck wireless outdoor home security camera? This is one area where you should definitely not follow the herd. ...
Imagine having to open different apps to live-view your many different cameras from different brands. What a pain, right? Thankfully there is a better way! ...
Is the Arlo Pro 2 worth getting over the plain vanilla Arlo? Let's find out as we compare them in our detailed head-to-head. Arlo vs. Arlo Pro 2 - ...
Browsing All Comments By:

Daniel