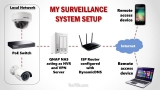 Updated May 28, 2019 Introduction A few years ago, my wife and I decided that we needed a modern Internet-enabled CCTV security system. We didn't know much ...
Are you looking for a reliable wireless security camera that can act as a baby monitor, a nanny camera, or just to talk to your dog while you are away? The ...
Wireless Home Security Cameras As the dust settles from Black Friday and Cyber Monday is about to begin, what are the best-selling wireless security ...
Imagine getting a pop-up alert on your smartphone whenever your IP camera or Network Video Recorder (NVR) detects motion. Wherever you are, iOS or Android ...
A Digital Video Recorder (DVR) has always been an essential component of a good CCTV security solution. With the advent of network cameras (IP Cameras) ...
25 Awesome Gifts for Men this Christmas What do you gift a guy? It's a question that bugs women everywhere, every holiday season, or special occasion. ...
The 2018 version of this guide is now available separately for outdoor and indoor IP cameras! Yes I admit it, I am crazy about DIY home security. When ...
This tutorial will show you how to set up motion detection email alerts for your Hikvision camera such as the Hikvision DS-2CD2042WD-I. You can use these ...
One of the most common applications for Power over Ethernet (PoE) is to connect and power IP devices such as IP phones and IP cameras over a single network ...
Fortress S02-B Home Security System Wireless burglar alarm systems are a great option when you cannot installed a conventional fixed wired system. Maybe ...
Browsing All Comments By:

Daniel