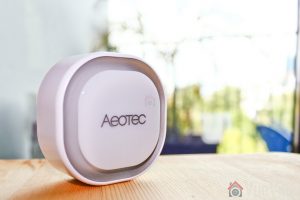 What if you are not interested in a wireless video doorbell, but still want a smart doorbell? The Aeotec Doorbell 6 is one such wireless smart doorbell based on the Z-Wave standard.
This doorbell can be added to your Z-Wave network to send you push notifications whenever the bell is pressed. You can also trigger other actions such as turning on porch lights, or recording a camera that covers your porch.
Aeotec kindly provided a review sample and we tested it in our own DIY smart home.
Here's the video review:

Hands-on Review of the Aeotec Doorbell 6
Aeotec – who are they?
Aeotec used to belong to Aeon Labs, the company founded in 2006 and based out of Silicon Valley. But that's no longer the case. Aeotec also have another brand that's popular in the smart home market – Popp.
They also are an OEM for Oomi.
back to menu ↑
Un-boxing
The box contents are:
Aeotec Doorbell 6 Chime unit
Chime wall adapter
Bell push button and wall plate
3M double-sided tape, screws
Power adapter
Button cell for bell push button
Quick start guide
Warranty card
back to menu ↑
Specifications
Product Model Number: ZW162
Dimensions Chime: 76*76*38.5mm Button: 85*38*14mm
Weight
Operating temperature: 32° to 104° F (0° to 40° C)
Relative humidity: 8% to 80%
Wireless Technology:

Z-Wave (Between Chime and Gateway)
433.92MHz/FSK (Between Chime and Button)

Z-Wave Plus: Yes
Z-Wave Module: ZM5101
Security Class: S0, S2 Unauthenticated/Authenticated
Over The Air (OTA) Updates: Yes, requires Z-Stick USB
Distance between Chime and Z-Wave Gateway: 30m (Indoor) /150m (Outdoor)
Button Control distance between Chime and Button: 120m (Barrier-free sight line distance)
Input Voltage Chime:

Battery, 3.7V; Power Adapter, DC 5V/2A
Button: Battery, 3V

Chime's Battery:

Model: PT502035
Capacity: 400mAh
Detachable: No
Chargeable: Yes. Charging via Chime Power Adapter.
Endurance: 4 hours

Button's Battery:

Model: CR2450
Capacity: 630mAh
Detachable: Yes
Chargeable: No
Endurance: 2 years

Power Consumption Chime: IWORK < 80mA, I STANDBY < 70mA
Button: IWORK < 20mA, I STANDBY < 0.1uA
Splash, Water, and Dust Resistant
Chime: Not Waterproof
Button: Rated IP55 under IEC standard 60529
Sensors: Vibration Sensor
Supported Paired Buttons Max: 3
Tones Storage Size 16MB
Supported Tones Max: 30; (No interface to replace the built-in tones. If want to change these built-in tones, you need to contact us to customize).
Volume Max: 105dB from 10cm away; 7 adjustable volume levels
back to menu ↑
Design and Hardware Features
The Aeotec Doorbell 6 has two halves – the chime unit and the ring button.


The chime unit unit has a premium look and feel about it. There is a white LED embedded in the front face and lights up when the chime rings. The LED in the chime unit is actually a very powerful 1000 lumens strobe light as well.
Why does a doorbell have such a powerful LED? Because the chime unit is also engineered to be a standalone siren, in fact it is the exact same thing sold as the Aeotec Siren 6.


The chime has a 105dB speaker. You can also add up to 3 additional buttons to the same chime unit. Aeotec sells these as accessory buttons. The signal between the chime unit and the bell button is a 433MHz ultra low-power signal. This also maximises the range between the two.
The chime has a built-in rechargeable battery, but surprisingly it only has a capacity of 400mAh. Not much for a doorbell chime if you ask me. However, it is designed to be powered with the included power adaptor. So for powering the doorbell through a brief power cut, the battery seems to be fine.
What about tamper-resistance? The chime has a sensitive vibration sensor. So once you include the doorbell in your Z-Wave network, the siren will go off if you move the chime. The Z-Wave tamper device will also be triggered at your Z-Wave controller.
The chime unit is not water-proof by the way, it is intended for indoor use only.
The bell button has a tiny LED at the top that blinks twice when you push the bell. An included CR2450 3V button cell powers the button. It has a capacity of 630mAh and is rated for 2 years use.
The bell button is water-proof with an IP55 ingress rating.

back to menu ↑
Software Features
The chime unit uses Z-Wave to communicate with your HA controller/hub. The chime unit has 16MB storage and comes with 30 tones pre-installed. You cannot add more unless you delete a few existing ones.
The 30 tones range from the standard ding-dong tone, a Christmas tree tone, and various alarm tones such as smoke, CO and even a tornado siren!
The doorbell has a surprising number of unusual features such as a Z-Wave signal quality tester.
You can also change the chime LED light effect. This is achieved by changing certain parameters described in the engineering document. I find the vibration sensor alarm unnecessary, and thankfully you can mute it or reduce the alarm volume by modifying parameter 0x11(17). Just like other Aeotec products, the doorbell is extremely customisable. You just need to check whether your Z-Wave controller can send parameter configuration commands.
back to menu ↑
Installation and Setup
The bell button can be easily installed beside your door with the included 3M double-sided tape or the small screws.
I plugged in the chime unit using the provided power adaptor.
My smart home automation system is built on Z-Wave using the excellent HomeSeer HS3 software. I use an Aeotec Z-Stick USB device as the Z-Wave radio, plugged into a Dell Inspiron laptop running HS3.
Pairing the Aeotec Doorbell 6 with my Z-Wave controller
As per the quick start guide, I plugged in the Doorbell 6 chime unit. The front white LED started blinking in heartbeat style.
I then had to set HomeSeer HS3 into 'Inclusion mode'. For this I navigated to Plugins > Z-Wave > Controller Management. Under Actions, I selected 'Add/Include a Node' and clicked the Start button.
I pressed the action button on the rear of the doorbell once. If your hub requires S2 security, you can enter the first 5 digits of the DSK printed on the back of the doorbell.
The inclusion process finished successfully in HS3. According to the manual, doorbell's white LED should then turn solid white for 30 seconds to indicate successful inclusion, but it didn't. Nevertheless the doorbell was included successfully.
I could then see all the different devices the doorbell created in my HS3 devices list.
back to menu ↑
Performance
Loudness
The chime can get very loud indeed. If you place it at a central location in your home, you should hear it from pretty much any room.
Wireless Range
The first thing I tested is the range between the bell and the chime. Remember this does not use Z-Wave, just a standard signal like an ordinary wireless doorbell. Aeotec claims the range between the chime and the button is up to 90 metres. I had no trouble with the chime ringing throughout my home, so the stated range sounds right.
Next up was the range between the chime and my Z-Wave controller. My home is of solid concrete construction and where I have placed the chime means that the Z-Wave signal has to penetrate at least 2 solid concrete walls. This the chime unit did with ease.
The mesh network design of Z-Wave networks allows the doorbell chime unit to act as a repeater . So the chime unit actually extended the reach of my Z-Wave network.
Responsiveness and Reliability
Whenever I pressed the button, the chime instantaneously rang. There was mo delay in the device status updating in HS3 either.
Compatibility
The Aeotec Doorbell 6 is officially compatible with Samsung SmartThings, Fibaro HomeCenter and Popp Hub. But as you can see from my review, it works with HomeSeer HS3 also.
Zack at Self-hosted Home has got it to work with HomeAssistant event though its not officially supported.
You can see the full compatibility list on the Aeotec website.
back to menu ↑
Verdict
I have been using the Aeotec Doorbell 6 for over 4 months now. A smart doorbell means that I can now trigger actions such as turning on porch lights and sending notifications to mobile devices.

Aeotec Doorbell 6 Z-Wave
An excellent loud Z-Wave doorbell that can also double up as a siren with strobe light.
PROS
Very loud 105dB siren
Bright white LED
Works as a siren also
Tamper-proof
CONS
Chime battery is a bit under-powered
Difficult to change light patterns
No way to activate chime LED alone
back to menu ↑
Where to Buy
Buy the Aeotec Doorbell 6 from your local Amazon store.