Video doorbells are a great addition to your home security arsenal. I am just about to embark on my home automation project and the doorbell is one area that I am particularly interested in making smart.
A quick note: This article may contain affiliate links. If you click on one of these links and then purchase something, we may receive a fee. This does not cost you anything extra. Also note that Hikvision and Dahua do not consider certain platforms including Amazon as an authorized seller platform. So if you need warranty support please purchase from authorized resellers of Hikvision and Dahua products in your country.
Video Doorbells – What to look for
Having already installed a wireless video doorbell for my mom, I would advise looking for the following features as a minimum in a video doorbell:
1080p HD resolution
Night vision capability using IR LEDs, ideally a true IR cut filter so that daytime pictures don't suffer from false colours
Good field of view, the best in class have up to 180 degrees horizontally
Weatherproof/waterproof rating, ideally at least IP 65
Built-in speaker and microphone
WiFi supported
Live View feature
Video recording feature
The following features are nice-to-have:
Continuous recording feature, preferably without a subscription
Should not be reliant on the cloud for basic functions
Local video storage option in the form of an SD card slot
A PIR motion sensor to cut down on false alerts
Preferably should not rely purely on batteries as saying your smart doorbell isn't working because you forgot to charge the batteries is pretty dumb
ONVIF support so that you can use the doorbell with any NAS, NVR, or software like ZoneMinder, BlueIris
RTSP stream capable so that even if ONVIF support is not present, you can still pull the video stream and use it
Should integrate with popular HA (Home Automation) hubs and controllers such as the MiCasaVerde Vera Plus – this means that the manufacturer should have a published API in the very least.
Siren for scaring off intruders
back to menu ↑
back to menu ↑
Ring – Who are they?
Ring was founded by Jamie Siminoff who is also its CEO. But the Ring Video Doorbell is not their first product. That was the DoorBot, launched in 2014 by Jamie's earlier venture, Bot Home Automation. It was mostly a success and was then rebranded as the Ring Video Doorbell.
back to menu ↑
back to menu ↑
Ring Video Doorbell Pro – What is it?
Essentially, the Ring Video Doorbell and the Ring Video Doorbell Pro work on the same concept – a doorbell that is connected via WiFi to your home network. When someone rings the bell at your door, an alert is sent through your home network over the Internet to Ring's servers and then to your phone wherever it is in the world. Use the app on your phone to then check who is at the door (live video), and if you so desire, you can have a 2-way conversation with them right away using the built-in speaker of the doorbell. The optional Chime wall plug unit will produce a chime as well when the doorbell is pressed. So you can see them but they can't see you. Also, you can be anywhere – in the house itself, in another city for work, or on holiday in France; but your caller will never know!
If you are not able to answer, you can play a recorded greeting and allow them to leave a message. The event will be captured so that you can check on missed calls later on.
It also has motion detection so that it can sound a chime or send alerts to your smartphone, whenever someone is at the door, even if they don't press the doorbell. This is why it is billed as a smart home security device – you can know if somebody is snooping around.
The original Ring model was launched in 2014 and was received positively albeit having a few flaws, such as flaky reliability and motion detection, apart from being reliant on a battery that needed charging.
The Pro model under review here is the second product in the Ring family and was launched in March 2016. The main improvements over the Ring model are 1080p HD over 720p HD, 5GHz wifi support and push notifications, custom motion zones, and it is hardwired into your existing doorbell thus obviating the need for batteries.
Since the Ring is dependent on the Internet for smart features such as live view, smartphone notifications, video conversations, a 2 Mbps upload speed is recommended by Ring for best performance. We would say this is the bare minimum and you really need a faster connection.
back to menu ↑
back to menu ↑
Ring Video Doorbell Pro – What is it suitable for?
If you want to improve the security of your home by keeping tabs on who's calling even when you are not at home, the Ring doorbells are perfect for you. If you are renting and cannot rip out your existing dumb doorbell, go for the Ring Video Doorbell which uses batteries. If you are a homeowner and can replace the existing dumb doorbell fully, go with the Ring Video Doorbell Pro.
With its new Ring+ feature, you can integrate it into your home automation system. So you could have WeMo lights going on automatically when someone rings the bell. Or if you have one of the supported hubs, you can create your own custom action trigger.
back to menu ↑
back to menu ↑
Main specifications
If you are trying to make up your mind between the Ring WiFi Video Doorbell vs. Ring Video Doorbell Pro, the main differences are the video resolution and the installation method.
ring doorbell pro vs. ring Doorbell compared:
| | | |
| --- | --- | --- |
| Feature | Ring Video Doorbell | Ring Video Doorbell Pro |
| Power options | Rechargeable battery power or hardwire to existing doorbell kit | Hardwire to existing doorbell kit only |
| Battery Life | 6-12 months | n/a |
| Compatible Doorbell Transformers | 8-24 VAC, DC not compatible | 16-24 VAC, DC not compatible |
| Field of View (hor) | 180 degrees horizontal | 160 degrees horizontal |
| Field of View (ver) | 140 degrees vertical | 100 degrees vertical |
| Video Resolution | HD 720P | HD 1080P |
| Finishes | Available in 4 finishes | Comes with 4 interchangeable different color faceplates. |
| Compatible Networks | 2.4 gHz 802.11 b/g/n | 2.4 or 5 gHz 802.11 b/g/n |
| Advanced Motion Detection | 5 selectable zones and customizable sensitivity scale | Customizable motion detection zones |
| Live View Available | Hardwired only, yes | Yes |
| Size (in) | 4.98 x 2.43 x 0.87 inches | 4.5 x 1.85 x 0.80 inches |
| Size (cm) | 12.65 x 6.17 x 2.21 cm | 11.43 x 4.7 x 2.03 cm |
| Mounting screws | 4 | 2 |
| Security screws | 2 | 1 |
| Best for | Everyone | Users with a wired doorbell kit, professional installers |
back to menu ↑
back to menu ↑
What's in the box
The Ring Video Doorbell Pro comes with everything you need to set it up:
Ring Video Doorbell Pro
Four interchangeable face-plates
Drill bit
Mounting screws and anchors
Security screw
Security screwdriver
Pro Power Kit
Wire Clips
Wire Harness
Install instruction guide
back to menu ↑
back to menu ↑
Installation
Installation is straight-forward and Ring has provided comprehensive manuals online. The Ring Doorbell Pro requires access to a wired doorbell but is compatible with most mechanical or digital (electronic) doorbell kits that use transformers between 16 and 24 volts AC.
DC transformers or AC transformers below 16 volts AC are not supported at this time. However they are working on connecting it directly to a transformer.
Here is a brief overview of the installation process:
Install the Pro Power Kit – this unit connects to your existing doorbell itself and provides the right power level for the Ring Video Doorbell Pro. Your current doorbell transformer should be of the 16/24 Volts variety, otherwise the Ring just won't get enough power.
Install your Ring Video Doorbell Pro – You will need to hardwire it into your existing doorbell switch.
Complete the in-app setup and you are ready to go.
back to menu ↑
back to menu ↑
Features
Resolution
One of the main issues with the original Ring was the rather pedestrian 720p HD resolution. The Pro comes with 1080p HD which is a welcome improvement. Higher the resolution, higher the amount of detail you can get to identify shady characters you have caught on video!
Night vision
The Ring Video Doorbell Pro has true night vision using its InfraRed LEDs. So you will be able see clearly what's going on even in pitch dark conditions, although it will be in black and white.
Field of View
The Ring Pro has a very wide-angle lens with a 160° field of view which is on the higher side. This should make it very difficult for anyone to escape getting caught by the Ring if they are up to no good.
Design
The Ring Pro is very stylish and definitely looks the part. The body is not compact though at 12.65cm x 6.17cm x 2.21cm, and so is not very discreet. The body is not IP rated for water proofing, but Ring says it is resistant to rain water and will even work in freezing temperatures. The recommended operating temperatures range is -20.56 ºC to 48.89 ºC.
Audio features
The Ring Pro has a built-in speaker and microphone for two-way audio conversations.
Wireless
The Ring Pro supports the 5GHz WiFi band in addition to 2.4GHz. However the 5GHz band has shorter range than 2.4 GHz, so unless your router is near the Ring's intended installation location, use the 2.4 GHz band.
There is no RJ45 ethernet port, hence no Power over Ethernet feature either. It has to be hardwired to your doorbell, so that's where it gets power from.
Motion Detection
Another weakness with the original Ring was the fixed motion detection zones which has also been improved.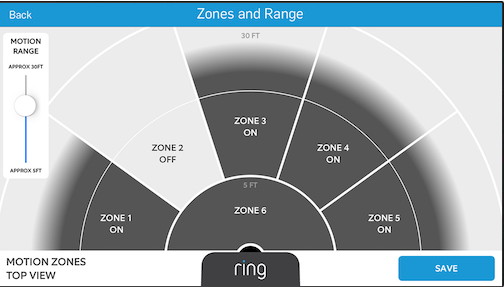 You can now draw custom motion detection zones with the Ring Pro. The sensitivity can also be adjusted.
Live View and Recording
The Ring Pro supports live view without a cloud subscription. However, if you want to record event or motion-triggered clips, you will need to pay the monthly or annual cloud subscription.
Cloud Services
Every Ring doorbell comes with a free trial of the Ring.com cloud recording service. After the 30 day trial, it costs $3 a month (£2.5) or $30 annually (£24.99), per device. Sadly, there is no discount for additional devices on your cloud account.
So what can you do with the camera if you don't want to pay for the cloud subscription?
1080p Full HD Live View – you can check into the Ring Video Doorbell Pro to see what's going on
Motion detection zones and push alerts to your smartphone
Two-way audio: Talk and listen through the built-in microphone and speaker
Since there is no local storage option – you have to pay for the cloud subscription if you want the following features:
to record event clips and to store that recorded video for up to 6 months.
permanently save a video by downloading it to your device
timeline feature which helps you find recorded event clips quickly
create and share recorded video clips with friends, family, or law enforcement
Ring recommends a minimum broadband upload speed of 2Mbps for using the live streaming and cloud storage features.

Mobile App
The Ring Pro app is available for Android, Apple devices, and Windows 10.
back to menu ↑
back to menu ↑
Verdict
The Ring Video Doorbell Pro is a good product that has been well-received by users and this wireless doorbell is the #1 best-seller on Amazon USA. However I am not happy about its reliance on Ring.com servers and the security, privacy and latency issues this introduces into the mix. It is easier to set up due to this reliance on the cloud though.
As a power user, I would have preferred a fully local option where it is not reliant on the Internet to work.
PROS
1080p (2MP) Full HD video resolution
InfraRed LEDs for true night vision, true IR cut filter
Wide-angle lens with 160° field of view
2.4/5 GHz WiFi supported
Email alerts and Push notifications
CONS
No weather-proof or water-proof rating
No continuous recording feature
No local storage/SD card slot
No PIR motion sensor
No ethernet port/No PoE
No ONVIF support, not RTSP stream capable
No API for interfacing with home automation controllers
Accessing past recordings needs a paid Cloud Recording subscription
All smart features such as alerts require an Internet connection and use Ring servers
back to menu ↑
back to menu ↑
Where can I buy it?
[content-egg module=Amazon template=custom/compact limit=1]
View on your local Amazon Website
back to menu ↑
back to menu ↑
Also Consider on Amazon
A quick note: This article may contain affiliate links. If you click on one of these links and then purchase something, we may receive a fee. This does not cost you anything extra.