When I first started using a NAS as my DIY NVR, it was more of an experiment than anything else. I originally purchased the NAS for backing up all our devices and for media serving duties. But I soon realised it could also serve as an NVR. With QNAP now including 8 NVR channels for free in their new QVR Pro NVR app, I have been very happy with my QNAP NAS in my DIY NAS NVR setup.
If you are interested in a similar setup, here are my 2023 picks for a multi-purpose low-power all-in-one DIY NAS NVR.
(* = affiliate link / image source: Amazon Associates Program)
A quick note: As an Amazon Associate I earn from qualifying purchases. This post contains affiliate link(s). An affiliate link means I may earn advertising or referral fees if you make a purchase through my link, at no extra cost to you.
---
Best NAS for Home Surveillance – 2023 Recommendations Summary & Comparison
(* = affiliate link / image source: Amazon Associates Program)
---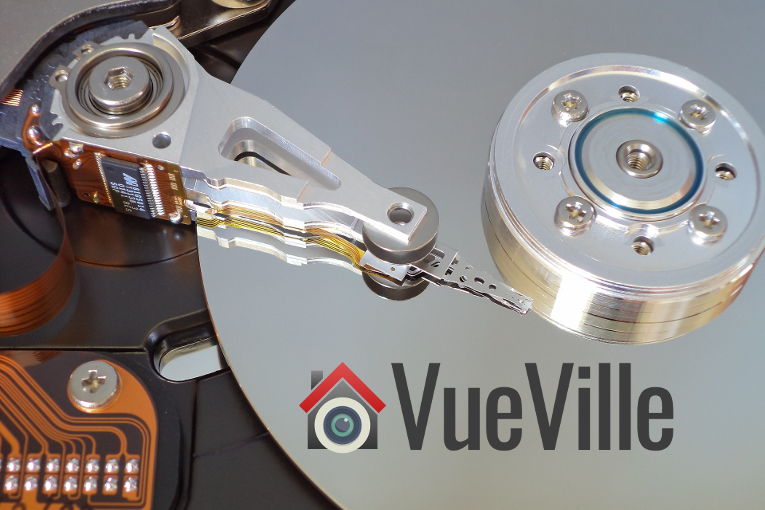 ---
Why use a NAS NVR instead of a regular NVR?
If you have IP cameras from different brands in your home and they all support industry standards/protocols such as ONVIF or RTSP, finding an NVR to record all these cameras is a pain. Most NVRs are designed to support only their own brand cameras, such as Lorex or Reolink. Some companies such as Amcrest, Annke, Hikvision support 3rd party cameras but often this is very limited and won't support AI person or vehicle detection features of the camera.
This is where a NAS NVR really shines – they tick all the boxes for a household that has multiple camera brands and need everything to just work seamlessly:
All major IP camera brands are supported, including AI and smart motion detection methods such as person or vehicle.
The NAS NVR can record to more than 1 disk drive so you always have a redundant copy of CCTV footage.
You can interface the NAS NVR directly to smart home automation software such as Home Assistant, HomeSeer, Hubitiat, Google Home, Alexa etc.
You can keep all your IP cameras and the NAS 100% local-only with no internet access and everything would still work. Only your home automation PC/device needs to have Internet access for notifications etc. Firewall rules using Unifi gear is the solution here.
---
Choosing the right NAS NVR
The modern household is a tech-heavy environment. Every family member probably has at least a smartphone, and a tablet or a laptop. Sharing media and documents across the home is a challenge without a central media server. This is where a NAS typically comes into the picture.
Providing redundant RAID storage, a NAS can serve up documents, stream music and movies to any device through the DLNA standard. But the humble NAS can do so much more.
A NAS is basically a computer that runs a custom Linux operating system created by the manufacturer (Synology, QNAP, Asus etc.). Most manufacturers offer various apps that can be installed on their devices to add or extend its abilities. These apps are usually called 'stations'. Examples of such 'stations' apps include Photo stations, Video stations, and Backup stations.
Almost every NAS sold today has a surveillance camera feature, but only two companies have software that can really pull it off – QNAP and Synology. NAS manufacturers call each IP camera slot a licence in their software. So 1 licence = 1 channel = 1 IP camera slot.
QNAP currently has two apps for CCTV surveillance – QVR Pro and QVR Elite which are both very capable successors of the old QNAP Surveillance Station app. QVR Pro is aimed at the standard retail user whereas QVR Elite is a more corporate offering. So I will focus only on QVR Pro in this article. Synology has their Surveillance Station app which has been around for ages.
Feature-wise, both QVR Pro and Synology Surveillance Station are broadly comparable, and both support advanced smart motion detection. So I consider them to be equally good. For those who may not be aware of the QNAP QVR Pro app, I have explored the differences between QNAP QVR Pro and QNAP's original older Surveillance Station in detail here.
However there is 1 big issue with Synology's offer that makes QNAP a significantly better deal most of the time:
QNAP QVR Pro by default comes with 8 free QVR Pro camera licences, but these have a small limitation. With these 8 'free' licences, you can view only 14 days of recorded clips inside the app. Any clip older than that needs to be viewed through the File Station app, which is a minor inconvenience.
With Synology, you get only 2 licences (no other constraints though). But you need to pay another ~$350 for an 8-camera licence pack which substantially increases costs or buy into Synology's own brand cameras (which kinda defeats the whole point of going for a NAS NVR platform).
So to summarize, this is what the NAS NVR landscape looks like:
The best QNAP NAS models are the ones with at least 4GB RAM to run QVR Pro and additionally have 8 fully-fledged QVR Pro camera licences included.
All other QNAP NAS models with at least 4GB RAM can run QVR Pro which by default has 8 free QVR Pro camera licences but with the 14 day viewing limit.
All Synology NAS models come with 2 fully-fledged IP camera licences included, but to add more you need to spend another ~$350 for 8 more channels.
I have considered this very important aspect in my recommendations – hence QNAP being at the top and Synology being more down the list taking value for money into consideration.
How many drive bays do you need in your NAS?
The simple answer is: as many as you can afford! Because you don't need to fill all the bays for the NAS to work, so its good to have the option to expand later on if needed. You can even start out with 1 drive and add more later, although I strongly recommend going with a clear plan from the start. Most people will be fine with a 2-bay NAS in a RAID1 array (disk mirroring), but you probably have other media storage needs which necessitate a 4-bay NAS. With 4-bays or more, you can have a dedicated RAID-1 array which allows for NVR-focused hard drives but still having NAS-focused hard drives in another RAID array for all other needs.
---
We used to have the QNAP TS-251+ as our personal favourite on this list for quite some time. But times have changed. Starting off with QNAP's Home and Personal product line offerings, the TS-262 improves upon the now superseded TS-251+ model. If you want a powerful Intel chip in your NAS, the x62 series are the go-to QNAP models.
I would suggest using both drive bays to create a RAID-1 array for data redundnacy. If a drive fails (and they eventually will), just pop it out and pop a new one in. The NAS will then copy all the data automatically from the existing good drive to the new drive in a few hours. Since QNAP NAS' all support hot-swapping, you dont even need to shut down the NAS to do all this.
The aging dual-core Celeron J4005 (J4025 in some countries) from the TS-251 has been replaced by the Celeron N4505 which has improved graphics and memory bandwidth.
The 4 GB RAM gives your NAS more headroom and performance when running intensive tasks like 4K UHD transcoding or using QVR Pro.
The TS-262 also supports virtualization, so you can run virtual machines. This is great for running different operating systems on your NAS, such as testing/development on Linux or Android.
There is only one 2.5 Gigabit Ethernet port, so link aggregation/failover for network connections is not possible out of the box. But there is a PCIe slot allows you to extend the NAS capabilities by adding 10GbE support, SSD caching, or even a wireless card.
You can run Plex Media Server on this NAS and it supports hardware-accelerated transcoding up to 1080p. But bear in mind that only the QNAP apps work over the HDMI port.
Moving on to the NVR features of this NAS, 8 IP camera licences are included for the QVR Pro NVR app. These are not the time-limited free channels that lesser NAS models have, but proper full-fat licences. An extra 8-camera license pack is also available for purchase if you want even more NVR channels.
QNAP has recently launched the QVR Elite app which offers 2 IP camera channels for free. However this product is subscription-based which I don't recommend.
Now that QVR Pro supports the advanced motion detection of Hikvision, Dahua, Reolink and all the popular IP cameras, I don't really need Blue Iris anymore for tying into my home automation system! There is also a Home Assistant integration for QVR Pro that provides smart home compatibility. Super low power consumption of just 15W under load makes this the ideal DIY NAS NVR.
You can live view your IP cameras over the HDMI 2.0 port, unfortunately this feature works only if you upgrade the NAS to 8 GB RAM.
Stepping up to the small business and office product offerings, we find the QNAP TS-464 series. It builds upon the rich feature set of the TS-262, but offers 4 bays, a stronger CPU, and an extra Ethernet port.
The main advantage of 4 drive bays in a NAS NVR is that you can set up two RAID-1 arrays. The first RAID 1 array is for your regular data hoard (using 4 NAS specific drives like the WD RED Plus NAS drive*) and a separate RAID-1 for your NVR (using 2 NVR specific drives such as WD Purple Surveillance drive*). This way, you get the best disks suited for your needs, the NAS focused drives for regular data storage and the Surveillance drive for NVR usage. In this setup you can tolerate 1 disk failure for each array.
The dual Ethernet ports make a few things possible – link aggregation to double network speeds is one option. Another is failover that lets the NAS remain online in case one of the two network ports fail. But probably the use case that is most relevant to a NAS NVR is that your can dedicate 1 network interface to the NVR application. This means that interface can be in the same subnet as the IP cameras, thus maximising network security. See this guide on how I isolate my IP cameras from the Internet using Unifi firewall rules.
There is also a Home Assistant integration for QVR Pro that provides smart home compatibility.
Finally you get a really good 3 year warranty on this NAS.
The TS-462 is the 4-drive bay version of the TS-262 we saw earlier. It is identical to the TS-262 in all other respects and is a great choice for an affordable 4-bay NAS that can still do hardware accelerated transcoding.
The Home Assistant integration for QVR Pro provides smart home compatibility.
The TS-464 is the 4-drive bay version of the TS-264 we saw earlier. It is identical to the TS-262 in all respects but has only 4 GB RAM instead of 8 GB. Still it is a great choice for a powerful 4-bay NAS that can handle pretty much anything you can throw at it.
The Home Assistant integration for QVR Pro once again provides easy smart home compatibility.
The QNAP TS-664 is the 6-bay version of the TS-464 above.
The main advantage of 6 drive bays in a NAS NVR is that you can set up a RAID 10 array for your regular data hoard (using 4 NAS specific drives like the WD RED Plus NAS drive*) and a separate RAID-1 for your NVR (using 2 NVR specific drives such as WD Purple Surveillance drive*). RAID-10 for your regular data storage is preferable to RAID-1, 5 or 6 because of the performance boost offered by RAID-10. In this setup you can tolerate 1 disk failure for each array.
Another option is a RAID-50 array which offers the excellent performance of RAID-10 but with better data redundancy and more usable disk space. Up to 2 disks can fail and the array can still recover all its data.
It supports M.2 NVMe 2280 SSD slots that you can use for SSD cache acceleration. Basically the SSD acts as a cache to speed up data transfer from the NAS to your networked devices.
This NAS has an Intel Celeron CPU that allows for virtualization. Using the multiple 2.5 Gigabit Ethernet ports, you can assign different VMs to different ports for maximum bandwidth. But from a NAS NVR point of view, you could assign one network interface to NVR traffic only.
Synology is well-known for its high-quality hardware and very intuitive OS called DSM. The Synology DS220+ is a popular model that was launched in 2020 during the depths of the pandemic.
The DS220+ can serve as your file server, stream media across the home, automatically backup your devices, set up your own private cloud for file-sharing and monitor your IP cameras as well.
The quad-core Intel processor substantially improves performance over the DS220j which is the cheapest Synology product.
While 2 GB RAM is much lower than what QNAP offers in its products, bear in mind that these NAS boxes are basically extremely energy efficient Linux PCs. Linux doesn't need as much RAM as Windows and so 2 GB RAM is good enough for recording up to 25 IP cameras.
Only 2 IP camera channels are included though, and extra channels cost around $50 each. So factor this into the total cost of ownership. This is also the reason you find this otherwise very good NAS so far down this list.
There is no ready-made Home Assistant integration for Surveillance Station, but manually setting up sensors to detect Synology events is not difficult.
The TS-873A replaces the TVS-873 from last year. It uses a fast and powerful AMD processor with on-board Radeon graphics. This makes the NAS particularly suited to multimedia and surveillance duties.
Even though the NAS is aimed at small businesses, the multimedia features are what makes this NAS box shine. On offer are optional HDMI output, audio in and audio out which can be very useful for surveillance applications, and powerful hardware to keep everything chugging along nicely.
If you are a fan of Synology's DSM OS, need the Surveillance Station app and don't mind paying up to $350 extra for more NVR channels, the DS923+ is a decent 4-bay option to consider.
Even though there is no integrated GPU, the CPU is powerful enough to handle Plex and some CPU transcoding as needed.
---
Conclusion
So there you have it, these are my recommendations to build the best DIY NAS NVR in 2023. Leave your thoughts below!