Conbrov is one of the more prolific hidden camera manufacturers out there. I reviewed the DV9 book camera last year and that was a very well designed camera that could be hidden in plain sight. The latest model that Conbrov has kindly provided for us to review is the minuscule T33 1080p HD portable video recorder, which on the contrary is definitely meant to be hidden but is portable thanks to its built-in battery.
You could use the T33 in a variety of ways: a portable video recorder, webcam, or a mini home security camera. Since it can be powered by AC power or the built-in battery, you have a lot of flexibility in where and how you can use it.
Please note that we do not endorse any illegal use of the equipment we write about. All testing carried out using this camera features the authors of this blog only. Make sure you follow all local and national laws in your jurisdiction while operating this camera.
A quick note: This article may contain affiliate links. If you click on one of these links and then purchase something, we may receive a fee. This goes towards the costs of running this website and does not cost you anything extra.
Conbrov T33 un-boxing
The Conbrov T33 comes in a smartly branded box that lists its main features on the back.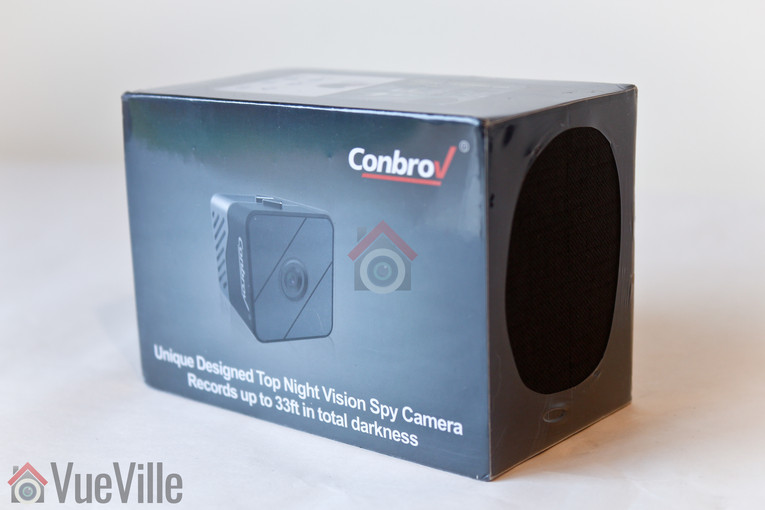 back to menu ↑
back to menu ↑
What's in the box
T33 Hidden Spy Camera
User manual
Pin for resetting the camera
Magnetic bracket
1 x USB cable
1 x USB Card reader
VIP membership card
Warranty card
UNICEF donation card
back to menu ↑
back to menu ↑
Main Specifications
| | |
| --- | --- |
| Size | 1.18 inches cube |
| Power source | Built-in battery or DC 5V via USB port |
| Battery capacity | 1000 mAh |
| Battery technology | LiPo |
| Standby power consumption | Unknown |
| Max day time continuous recording time | 6 hours |
| Night vision continuous recording time | 3 hours |
| Motion detection standby | Max. 1 year |
| Day time recording power consumption | 130mAh |
| Night vision recording power consumption | 330mAh |
| Charging time (to 100%) | 3-4 hours |
| Camera lens angle | 110 degrees |
| Video Resolution | 1080p/30fps |
| Max MicroSD storage | 32GB |
| Loop recording | Yes |
| Motion Detection | Yes, PIR-based |
| PIR (Mode MD) video length | 1 minute per file |
| PIR detection angle | 45 degrees |
| PIR detection distance | 5 metres / 16 feet |
| Pre-record | None |
back to menu ↑
back to menu ↑
Design and Features
The Conbrov T33 is impressively small for the crazy amount of features it packs, measuring just 1.18 inches on each side. The two-tone cubic shell has a polished bronze front half and a plastic black half.
back to menu ↑
back to menu ↑
Hardware Features
The front of the camera houses the lens, the PIR sensor and the Infrared LED. But only the lens is visible making the camera very discreet.
The rear of the camera has the micro SD card slot, the USB port and the activity LED lights. The top of the camera has two buttons – one for starting and stopping motion recording and another button for starting and stopping manual recording. There is also a reset button on the side of the camera. The camera has audio recording but it was not evident where the microphone is located.
back to menu ↑
back to menu ↑
Software Features
The camera can operate in two modes – manual recording that you start and stop or motion detection recording triggered by the on-board PIR motion sensor. Clips can be recorded at 1080p, 720p or VGA resolution. It can also add a date and time watermark to recorded clips. The camera can record while being powered over the USB port – this is a great feature and makes it possible to leave the camera in position for long periods of time without worrying about the battery dying.
PIR-based motion detection is more reliable than software-based detection and so top marks to Conbrov here. However I was disappointed to find that there is no pre-record feature, even on AC power. This is the feature whereby the camera records the few seconds before the actual event takes place. Its possible only if the camera is continuously recording to its video buffer, and I can understand this is too energy intensive when in battery mode, but could have been a great feature when the camera is powered over USB.
Loop recording or automatic overwriting is available when the SD card gets full, see the storage capacity section below to get an idea of how long a 32GB card would last. 32GB is the largest SD card capacity the camera supports.
Even though this camera can work off AC power, it doesn't support the RTSP protocol or the ONVIF standard. So integrating this into an existing CCTV system is not an option. Which is a shame because a tiny camera like this can be very discreet indeed!
Audio is also recorded on the video clips – you can disable this feature in the camera settings screen – see below.
back to menu ↑
back to menu ↑
Camera Setup
The manual is written in good English and is very detailed. There are clear illustrations showing the different parts of the T33 camera and a helpful summary of the setup instructions. Then there are further sections that describe the setup process in detail.
A very helpful table of various LED indicator statuses is also provided at the end of the user manual.
So as per the instructions in the T33 user manual, I followed the steps below to set up the spy camera:
I used the provided USB cable to plug the camera into my laptop USB port and charge the battery. Charging took a few hours and the yellow LED stays lit during this process. When the yellow LED goes off, it means the battery is fully charged.
When the camera was fully charged and the yellow LED went off, I inserted a 32GB Sandisk Class 10 microSD card. When I first tried to insert the SD card the right way up as shown on the back of the camera, it didn't go in. I had to insert it upside down – contacts side up. However the user manual correctly shows which way you need to insert the SD card in. Push it in all the way until you hear a click. On my review unit, the SD slot didn't line up perfectly with the outside casing and so I had to angle the SD card a bit to get it in properly.
The third step is to set the camera parameters or in other words adjust the settings. Connect the camera to your computer using the USB cable. Press and hold the manual recording button for 2 seconds to turn on the camera and put it into USB disk mode. A blue LED at the back of the T33 will flash continuously and the microSD card will then show up as a removable disk on your computer.
Open the SD card and you will see a file called SetCamera.exe, open this file. Make the desired changes, click Save and then Exit. You will now see a new file created called CONFIG.INI which stores your settings.
That's it – there are really no other software settings you can control. On the camera itself, the only thing you can do is choose the recording mode – manual or motion detection.
The next challenge is positioning the camera. As with most spy cameras, there is no Wi-Fi or live stream feature. So you can't know whether you are getting everything you want in your scene until you record and then play back the video. But that's just a one-time exercise.
back to menu ↑
back to menu ↑
Performance
You can power the camera either using a DC 5V power source and a USB cable, or by using the built-in 1000mAh battery. Its interesting that Conbrov doesn't shout about two of the best features of this camera – that it can be powered externally and so you don't need to worry about running out of juice. What's the other one? The PIR sensor that it uses instead of the more commons software based motion detection method. The PIR range is easily 5 metres or 16 feet and the Infrared LED is also very powerful. It does have a flashlight effect though.
Video clips are recorded in 1 minute intervals, so stitching together longer recordings could become a bit of a chore.
Daytime video quality
Daytime video was of decent quality at the default 1080p resolution. Motion was smooth and did not have any artifacts, if anything it was slightly grainy. There seems to be a true IR-cut filter, so colour during the day time was accurate unlike the DV9 model we tested previously.
As there is no pre-record feature and motion detection is PIR-based, the camera starts recording only 1-2 seconds after I opened the door and entered the room.
Night time video quality
Night-time video was soft and quite grainy. There is an ambient light sensor, so the Infrared LED switches on automatically in low light conditions. Again the first 1-2 seconds of the event are not available.
 Audio quality
Audio quality was acceptable and I found the microphone of the T33 to be quite sensitive.
Battery life
The battery takes 3-4 hours to recharge fully and the yellow charging indicator LED will go off when its done. The charging speed depends on how much amperage your charging source puts out. I used my Samsung mobile phone charger which is rated at 1.5 Amps. Conbrov says the 1,000 mAh battery should provide a standby time of up to 12 months in motion detection mode, but of course we couldn't test that.
There is no battery meter so if you are relying on the battery, be aware that it is rated for 6 hours of daytime usage and 3 hours of night time usage.
Storage capacity
The high bitrate of the recorded clips limits the number of hours the camera can record. I found that it needs approximately 2.15 Megabytes per second of video and audio in night mode and around 2.4 Megabytes per second for daytime clips. So a microSD card with the maximum supported size of 32 GB can store up to 4.1 hours of night-time video or 3.7 hours of day-time video before the loop recording feature kicks in and starts over-writing older clips.
back to menu ↑
back to menu ↑
Where can I buy one?
Check Price on your local Amazon Site
back to menu ↑
back to menu ↑
Verdict
The Conbrov T33 is a very compact camera that combines great features and practicality to make it one of the best hidden mini spy cameras available right now.
Review: Conbrov T33 1080p Portable Hidden Spy Camera
The Conbrov T33 is a very compact camera that combines features and practicality to make it one of the best hidden spy cameras available right now.
PROS
1080p sensor
Infrared LEDS provide night vision, true IR-cut filter
PIR sensor for accurate motion detection
AC power or built-in battery
Audio recording
SD card slot
CONS
Low light video grainy at 1080p
No pre-record feature
No RTSP support
Build quality decent but could be better
Copyright protected by Digiprove